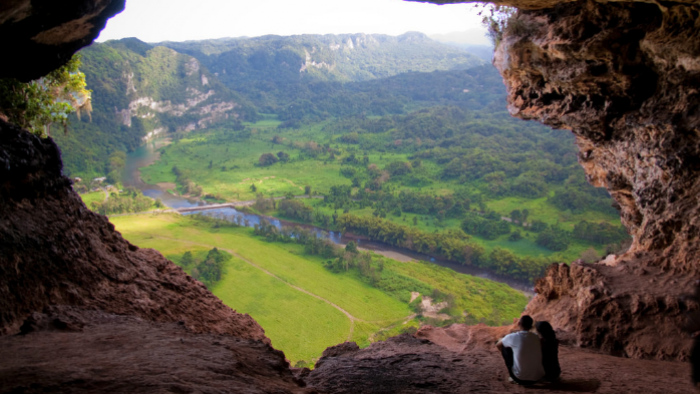 Host
Puerto Rico Tour Desk
About Me
We love what we do and the best part we get paid for what we like to do. We make our passion a professional (we don't feel we are working)
Badges
Description
This half-day tour consists of a visit to Cueva Ventana and Cueva del Indio with a lunch break in between. Cueva Ventana was certified by the PR Tourism Company as an eco-tourist attraction for its environmental conservation practices. This tour includes a visit to the facilities with two caves, a walk through the forest and the view of the cave towards the valley. The place has a period of the antiquity of 30 million years and has a secondary forest in the karst topography zone. In the grounds, we will be exposed to 100 species of native and exotic trees. The place is home to a great diversity of animals and endemic species just to Puerto Rico. In the cave, we can see pictographs of our aborigines and petroglyphs with face formations. You'll be impressed to see the communities of different species of bats along with one of the best scenic views of Puerto Rico. At the end of the tour, we will see a canyon, valley, the big river of Arecibo and the highest peak in Puerto Rico. Here you will learn why the cave is called Cueva Ventana or "Window Cave". Then we'll stop for an authentic Puerto Rican lunch break, not included in the price, before heading out to the next cave. Once we arrive at the site of Cueva del Indio, we will hike up an uneven terrain in order to see a bird's eye view of the Cueva del Indio. We will also enjoy the view of the arches. The reserve has about 8 arches formed by dunes cemented which captivate us with its scenic view and the Atlantic Ocean. We can also see the 350-foot statue of Christopher Columbus, one of the tallest statues in the Americas. If you want to see the mountains and the coast in 1/2 day, this is your best option.
Includes
Transportation (Round Trip) Cave Entrance Fees Best Certified Tour Guides Photos were taken by the tour guide
Notes
We stop for lunch but is not included Wear Tennis shoes that have a grip or hiking shoes (Recommended) No flip flops or sandals Have a good lunch before the tour Snacks (Optional) Camera
Spoken Languages
English
Spanish

Location
San Juan, Puerto Rico [ United States ]


Request Date
Let your host know you are interested.